IVYMOBI Android App Review: Best App Locking App
Android is the most popular smartphone OS as it boasts the user-friendly features. The security of an Android smartphone is something that should be taken very seriously. Even though the Android phones comes with several screen locking features that would let you set passwords to lock the screen, Android phone is easy to hack and vulnerable to threats. A simple swipe lock is not enough to keep your data, installed apps from wrong hands or prying eyes. These days most of the people are using the smartphones to carry their important documents, Emails, images and other sensitive data.
Thus, traditional lock screen is not quite convenient to unlock every time. It becomes quite irritating and you have to enter the passcode every time the screen times out. Better is to just protect specific apps which contain all the important data. Luckily, for Android smartphones Google Play Store do has some decent security apps to set password lock or draw pattern lock to some specific apps. You don't have lock the entire device.
If you are looking for simplest, safest, fastest and most powerful app to security your phone privacy, here I am going to review AppLock made by IVYMOBI. Here is my complete review of the app:

INSTALLATION:
Install AppLock_IVYMOBI is normal like other app installations. You can directly install on your devices via Google Play Store.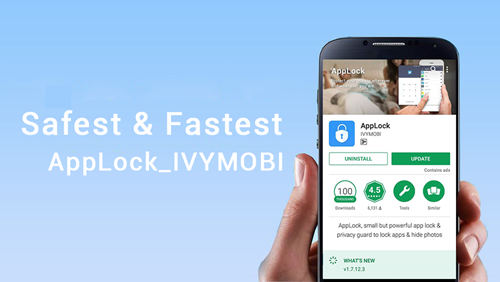 USER INTERFACE:

After opening the AppLock, it shows the screen with two straightforward options. The app lets you lock individual user and system apps with a PIN or pattern of your choice. You can either set PIN or Pattern to start using the app. For PIN option, you need to enter maximum four numbers, whereas pattern supports at least 3 dots to set lock screen.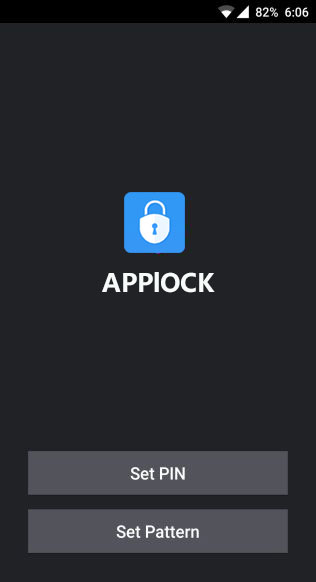 Once you have done that, the app takes you to its home screen, where you will find the installed apps and system apps listed under Application.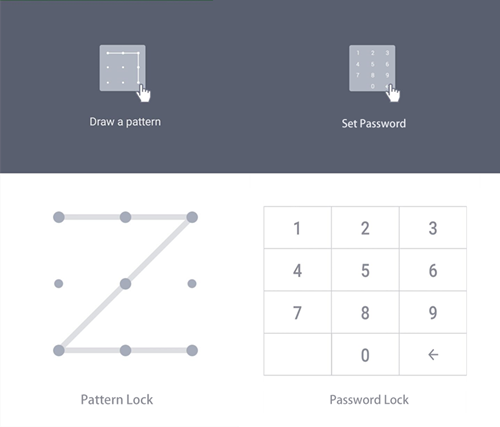 AppLock can lock:
-Social apps: AppLock can lock Facebook, WhatsApp, Messenger, Vine, Twitter, Instagram, Snapchat, and WeChat and so on. No one can peep at your private chat any more.
- System apps: AppLock can lock Contacts, SMS, Gallery, Videos, and Email and so on. No one can mess up your settings for system apps.
- Android pay apps: AppLock can lock Android Pay, Samsung Pay, and PayPal and so on. No one can use your wallet to purchase any item.
- Other apps: AppLock can lock any third-party apps, including Gmail, YouTube, and games and so on. Completely protect your privacy.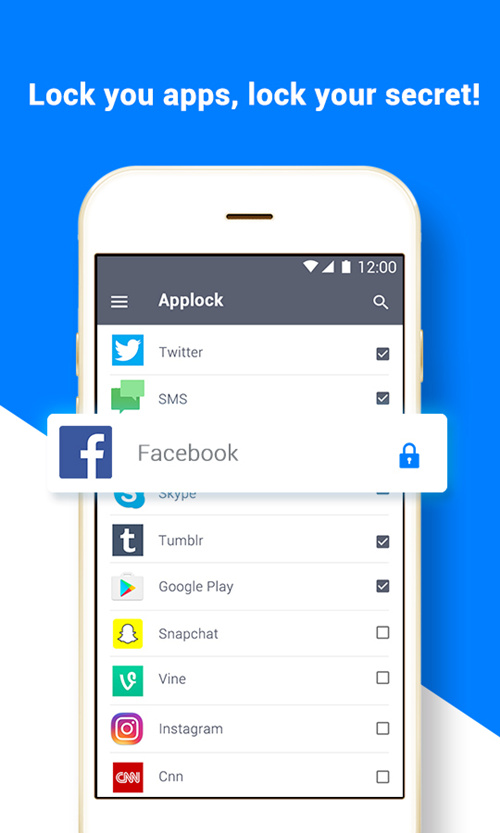 ●Intruder Selfie:
Intruder selfie, without doubt, is one of the most amazing features that you definitely have to know. With intruder selfie, your smartphone can automatically capture the snoopers who try to break into your phone privacy, you can clearly know that which app the intruders trying to open. Please bear in mind that if you want to use the Intruder Selfie, you have to allow the AppLock access phone Camera.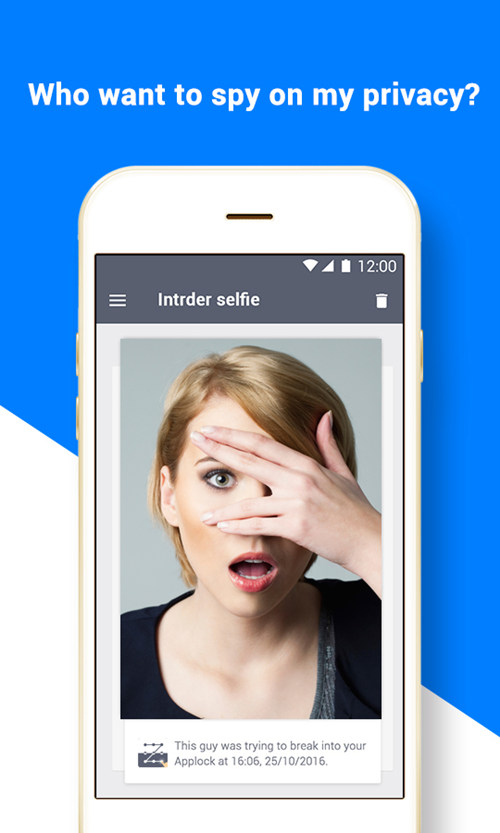 ●Replace App Icon:
Unlike the feature to hide the app icon, it ensures you to replace the app's icon with something else like the Calculator, Weather, Clock, Calendar or Notepad. Hiding the app is good enough, but it's time-consuming when you try to accessing the app through the dialer (what if you forgot the code……) Well, you can reset it for sure, but that takes a little bit of time right? With these faked app icon, no one else but you have the ability to access the AppLock.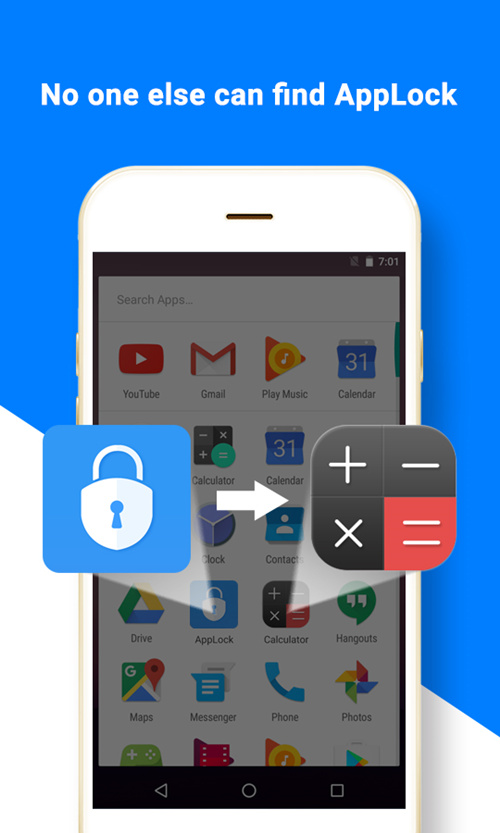 SETTINGS:

The AppLock's Settings screen allows you to customize app settings like Pattern, passcode delay (Always lock, 5 minutes or until screen off), Reset Password and Notify to lock new apps.
1, Reset Password: You can either reset Pattern Lock or Pattern Lock.
2, Require Password: By default, after a protected app is unlocked, AppLock re-locks it on exit. This option lets you to set time interval of delay in opening apps.
3, Notify to lock new apps: This feature intimates you to lock every new app after immediate installation. It is helpful to add app easily to AppLock_IVYMOBI after installation.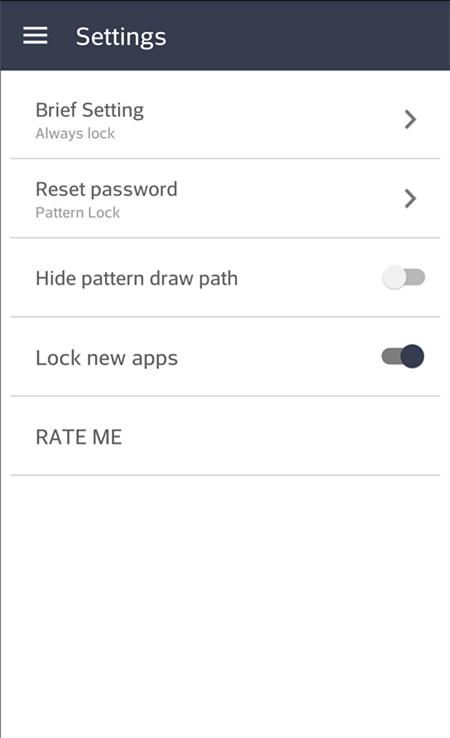 Quick Features:
-Lock Messenger, WhatsApp, Email and SMS. Keep your message safe.
-Lock Gallery and Photos. Keep your Privacy.
-Protect your Social Network apps. Secure your Facebook, Line, Vine etc.
-Lock your System. Control your own WIFI, Settings etc.
-Protect yourself from intruders. Lock your Games.

Verdict:
The main aim of the app is to protect your Android apps from wrong hands and the app is succeeded in its intention. The app look good with color combinations, easy to navigate and very easy to use. It is one of the best apps to protect your Android device sensitive data.

Play Store:
https://play.google.com/store/apps/details?id=com.ivymobi.applock.free&referrer=utmsource%3Dforumseo

If you have any questions with AppLock_IVYMOBI, please feel free to contact:

Contact us: support@ivymobile.com
Facebook:https://www.facebook.com/IvyAppLock
Twitter: https://twitter.com/AppLock5
Google +: https://plus.google.com/u/0/communities/113134139742239607331