[Review]AppLock by IVYMOBI: Password & PIN Lock Prevent Unauthorized Access
AppLock is an Android app that aims to protect your information as well as prevent kids or younger family members or friends accessing the apps or services you don't want them to do. AppLock made by IVYMOBI is designed to keep whichever apps, content like your SMS messages, you want safe from the prying eyes of others. Whether or not this is a roommate you share with, a paranoid partner or just kids you want to keep on the games, AppLock by IVYMOBI will do it and more. You can either lock apps behind a PIN or a passcode and users won't notice anything different until they actually go ahead and try to launch one of these apps, giving you a peace of mind you are after. With different modes for home or whatever, and the ability to create your own, AppLock made by IVYMOBI has a lot on offer. More than just a way to lock apps, there are fun covers for the app lock itself as well as intruder selfie to capture the intruder trying snoop around your phone privacy. If you are already using one, we would still recommend trying it out (never know, you may ditch the previous). In this review, we would highlight everything you need to know about the applock:


Review of AppLock security lock by IVYMOBI: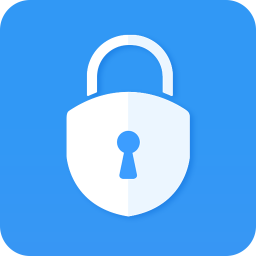 The User Interface:
AppLock comes with a pretty decent user interface. However, simplicity doesn't ruin your experience with it, the reason behind it is—NO ANNOYING IN-APP ADVERTISEMNTS. Although, it asks regularly to either submit a complaint or to rate it at the Play Store. But that's pretty much to it. You will have to once rate the AppLock to make it disappear or you can click the ╳ to stop it. The developer sincerely wants your feedback for improving the AppLock.

Features:
Looking at the size, and the screenshots offered at the Play Store, you will probably think that the AppLock is meant just for putting a pattern lock to secure apps, however it offers a multitude of interesting features like Intruder Selfie, Fake Lock or Replace App Icon.

●Basic App Lock:
-Social apps: AppLock can lock Facebook, WhatsApp, Messenger, Vine, Twitter, Instagram, Snapchat, and WeChat and so on. No one can peep at your private chat any more.
- System apps: AppLock can lock Contacts, SMS, Gallery, Videos, and Email and so on. No one can mess up your settings for system apps.
- Android pay apps: AppLock can lock Android Pay, Samsung Pay, and PayPal and so on. No one can use your wallet to purchase any item.
- Other apps: AppLock can lock any third-party apps, including Gmail, YouTube, and games and so on. Completely protect your privacy.
☞ AppLock can lock photos and videos.
After locking gallery and video apps, no intruder can peep at your private photos and videos. No worry about privacy leakage.
☞ AppLock provides invisible pattern lock and random keyboard. No one can peep at your password or pattern. Completely safe!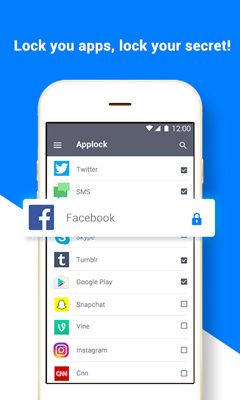 ●Replace App Icon:
Unlike the feature to hide the app icon, it ensures you to replace the app's icon with something else like the Calculator, Weather, Clock, Calendar or Notepad. Hiding the app is good enough, but it's time-consuming when you try to accessing the app through the dialer (what if you forgot the code……) Well, you can reset it for sure, but that takes a little bit of time right? With these faked app icon, no one else but you have the ability to access the AppLock.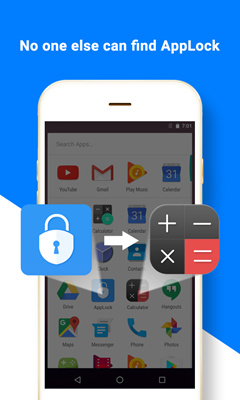 ●Intruder Selfie:
Intruder selfie, without doubt, is one of the most amazing features that you definitely have to know. With intruder selfie, your smartphone can automatically capture the snoopers who try to break into your phone privacy, you can clearly know that which app the intruders trying to open. Please bear in mind that if you want to use the Intruder Selfie, you have to allow the AppLock access phone Camera.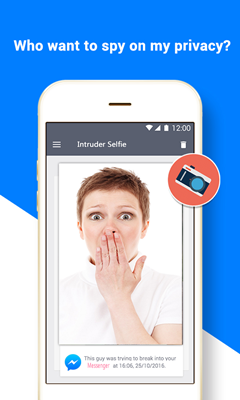 Here is one of the most important features:
●Stop AppLock:
Not everyone likes to have password or PIN lock applied smartphone at all times, so AppLock offers the function of stopping applock locking your locked apps every time you try to open. With just one-tap unlock, you can easily unlock the locked apps.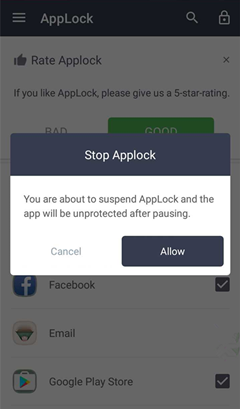 AppLock by IVYMOBI is an app that can help to keep everything yours nice and safe from prying eyes. This isn't about having anything to hide, but more about being able to make sure the kids end up sending emails to folks at the office, purchasing pricey games or to make sure your parent doesn't snoop or ruin a potential surprise or something much worse. That's only one part of the equation of here, and while that's a big part of it, there's more to it. AppLock by IVYMOBI can also be used to keep your text messages or images away from prying eyes as well. If you are interested in the AppLock, click the link down below to get more information:

Play Store:
https://play.google.com/store/apps/details?id=com.ivymobi.applock.free&referrer=utmsource%3Dforumseo

NOTE:
For android operating system up 5.0+, you have to accept the permission, otherwise you can access the locked apps without taping the password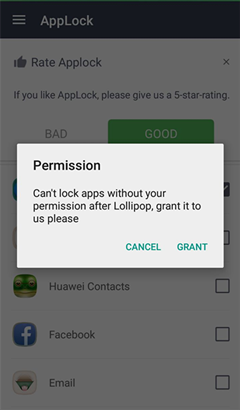 Contact us: support@ivymobile.com
Facebook:https://www.facebook.com/IvyAppLock
Twitter: https://twitter.com/AppLock5
Google +: https://plus.google.com/u/0/communities/113134139742239607331